Search for an Item:
Old Maid Cat Lady is your home for all things "cat"!
We currently have over 2,600 products for cats and for people who love them, with more being added all the time. You can shop by category, browse through all the products for cats, all the products for people, or do a specific search for exactly what you need. Roll over the menu to the left to see a flyout list of sub-categories for each main one.

Products are shipped directly to you from our suppliers. All those things you can't find for cats in the pet supply stores? We share your frustration and have made it our mission to find them for you.

If you're new to the cat-ownership world, you'll also find lots of helpful information on cat care and behavior here. Many category pages have articles, there's an informative blog, and also free downloadable brochures that can be copied or printed by shelters, cat rescue groups, pet sitters, or veterinarians to help educate people about cats.

Don't see what you want? Fill out the Product Request form on our home page and we'll track it down for you. We want your shopping experience with us to be fun and hassle free! If it's anything less, please e-mail us to let us know how we can improve for your next visit.
Purrs!
A Note About Security

Product and product category pages on Old Maid Cat Lady do not require a log-in; you're free to browse them anonymously. For this reason, they will show on Google as Not Secure. Once you click on the shopping cart, you'll notice that the URL switches to our store hosting company's URL and you are behind a secure firewall. Rest assured that your personal and payment information are always kept secure when shopping on Old Maid Cat Lady.
We're a Small Business, Too!
In Memory of Vixen

1988-2012
Supplements & treatments to care for your cat's skin, coat, and paws.
Cat Skin, Coat & Paw Care Products
Allergy Itch Ease Homeopathic Medicine
Homeopathic remedy relieves skin allergies and itch
FDA NDC: 68703-010-20
Angels' Eyes Tear Stain Preventer
Prevents tear stains from the inside out!

Bio Spot Active Care Flea & Tick Spot-on for Cats
Kills fleas and deer ticks and contains the Infest Stop™ ingredient to kill flea eggs and larvae for up to 1 month.
Bio-Groom Silky Cat Tearless Protein-Lanolin Shampoo
Paraben-free
Non-irritating
ConAirPRO Medium Cat Comb
A finishing comb with a soft, non-slip grip
Cushex Drops-M Homeopathic Medicine
Natural medicine addressing common issues with Cushing's disease in cats and dogs
FDA NDC: 68703-152-59
Doggles Hot Spot Cream
Yes, cats can get hot spots, too!
EcoPure Naturals Herbal Conditioner for Cats and Dogs
Safe for cats of all ages and breeds!
EcoPure Naturals Herbal Shampoo for Cats and Dogs
With essential oils of cedarwood, sweet flag, and eucalyptus
Espree Kitten Shampoo
Formulated just for kittens!

Helios Healing Cream
A topical homeopathic treatment for skin irritations and wounds
Helios S-O-eSsence Pet Balm
From the respected UK company!
Internal Gold Detox Kit
Use every spring and fall to keep your cat in optimal condition!
L-Lysine Soft Chews for Cats
Contains antibodies to help your kitty when recovering from illness.
Magic Coat Cat & Kitten Tearless Shampoo
with Keratin and Lanolin
Fresh citrus breeze scent
Magic Coat Flea & Tick Shampoo for Dogs & Cats
Kills fleas, ticks, and lice!
Omega Gleam Deep Conditioner with Oatmeal
(Currently unavailable)
Omega Mender! Itch Ender!
With Omega-3 and Omega-6 fatty acids
Organic Neem and Aloe Gel with Lavender
Neem is highly respected in Ayurvedic and Unani medicine
Perfect Coat Waterless Shampoo For Cats
Can't bathe your cat? Try this dry shampoo!
Pet Sunscreen
An essential for hairless or white cats!
PetAirapy Portable Air Purifier
Fights allergies in both you and your cat!
Rescue Cream Hot Spot Remedy
Soothes skin irritations with natural ingredients
Skin and Coat Tonic Herbal Remedy
For Pets' Shining, Healthy Skin & Coat (60 Caps)
Natural remedy to promote healthy skin & shiny, glossy coats.
Tear Stain Pads by ecoPure Naturals
Safely and gently removes brown tear stains on white cats!
TheraNeem Organix Pet Shampoo
Paraben-free
Sulfate-free
Gluten-free
Vet's Best Waterless Cat Bath
For when kitty needs a little help grooming!
Vet-Aid Sea Salt Wound Care Foam
Naturally protects wounds and speeds healing!
Vet-Aid Sea Salt Wound Care Spray
The most natural way possible to soothe and treat your cat's skin conditions!
Vibactra Plus
Immune, Oral, and Skin Support with Antioxidants
Wellness Colloidal Silver
A topical remedy since ancient times!
Zodiac Spot-On Plus Flea & Tick for Cats
Controls fleas, deer ticks, and mosquitoes - and includes a coat conditioner!
Helpful Information For You:
You may find this post from the Old Maid Cat Lady blog useful:
| Date | Title | Summary |
| --- | --- | --- |
| April 23, 2012 | Sun Protection for Cats? | Skin cancer and cataracts in cats; using sunscreen and goggles to protect them from sun damage |
Skin, Coat & Paw Care Products from Other Retailers
When we cannot find a direct supplier for something, Old Maid Cat Lady may make some products available to you through
affiliated retailers
. Clicking on the ads below will take you away from Old Maid Cat Lady and onto that retailer's site. They pay us a small percentage of any purchase you make there for referring you.
You may not use Old Maid Cat Lady gift cards or discount codes on affiliated retailers' sites, nor will any percentage of your purchase go to our
Cat Champions of the Week
. If you choose to visit any of our affiliates' stores, we hope you return to Old Maid Cat Lady soon!
Essential 6 for Cats 12 Months and Older
MalAcetic Shampoo for Fungal Infections in Cats
Natural Soothing Cat Shampoo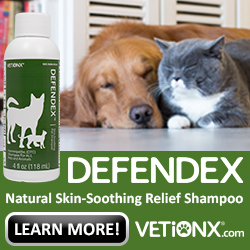 C
lick on the ad above for more info.
---
Hot Spot & Wound Care from Vet Approved Rx
Click on the button above to leave Old Maid Cat Lady and shop the Vet Approved Rx site.
Shop More Cat Health Products Here:
•
Alternative Remedies

Products to treat the symptoms of various feline ailments from homeopathic, naturopathic, Ayurvedic, herbal, or other alternatives to Western (allopathic) medical traditions.

•
Cat Calming & Soothing Products

Products to calm and soothe stressed, depressed, or hyperactive cats.

•
Digestive Support & Hairball Remedies

Products to help your cat's digestive system function optimally, control digestive parasites, and to combat hairballs. This includes products to support the feline pancreas, liver, and gall bladder.

•
Ear Care

Products to help you care for your cat's ears and relieve ear problems such as mites or wax buildup.

•
Endocrine Support & Diabetes Care

Products for feline glandular problems, feline diabetes care, thyroid, and other endocrine system support.

•
Eye Care

Products and supplements to care for your cat's eyes and keep them healthy, and also to combat cosmetic problems like tear staining.

•
First Aid & Wound Care

Cat first aid and wound care products for recovery from injuries or surgery.

•
Flea & Tick Control

Products to control fleas, ticks, and other external parasites on your cat, and to soothe kitties with flea dermatitis

•
Cat Health Reference Books

Reference books about cat health, care, and wellness to keep your kitty in peak condition!

•
Cat Heart Health

Products and supplements to keep your cat's heart and cardiovascular system in tip-top shape!

•
Homeopathic Medicines for Cats

Natural medicines for cats with ingredients based on the Homeopathic Materia Medica, a system of medicine practiced around the world for over 200 years. While no federally recognized clinical or scientific studies exist to attest to the effectiveness of these ingredients, there is much anecdotal evidence that they provide relief. Not all medical experts accept the practice of homeopathic medicine.

•
Feline Immune System Support

Supplements to keep your cat's immune system healthy. Great for kitties who travel, compete in cat shows, or are being boarded. May also help cats with immune-related disorders such as FIV, FeLV, FIP, or certain cancers. Consult a holistic veterinarian for guidance.

•
Cat Warming & Cooling Products

Heaters, warming products, and cooling products for cats, catteries, shelters, and pet cats of all sizes and types.

•
Cat Hydration Supplies

Products to encourage cats to drink more water and stay properly hydrated

•
Feline Joint Care

Products to care for a cat's joints, preventing and relieving pain due to feline arthritis, injury, amputation, etc.

•
Feline Oral Care

Products to care for your cat's teeth, gums, and mouth or to treat problems of the teeth, mouth and gums.

•
Feline Respiratory Care

Products to help cats with breathing conditions such as feline asthma, nasal allergies, feline herpes, and upper respiratory infections.

•
Cat Safety Devices

Safety and protection products to keep your cats safe from dangers such as predators, drowning, roaming, sun damage, traffic, fighting, or toxins.

•
Skin, Coat & Paw Care

Products to care for your cat's skin, coat, and paws, including wound care supplies.

•
Feline Urinary Tract Care

Products and supplements to help care for your cat's urinary tract, including the kidneys and bladder.
My Shopping Basket
Payment Accepted Via:
and
Wallet Smaller Than Kitty's Wants?
---
Not in the US?
Search for a Product:
All prices are in U.S. Dollars.
Popular Items:
About OldMaidCatLady.com
We're a small business, founded by a genuine old maid cat lady who loves her cats the same as if they were her children, just like you do yours. All products are shipped directly to you from our suppliers; we don't maintain any inventory. This eliminates double shipping, warehousing and staffing that would drive up costs, allowing us to price our items as reasonably as possible. When it comes to shipping, we charge you only what our suppliers charge us to ship the items to you. Those retailers who offer you "free" shipping are only raising their prices to cover the cost of shipping, and we'd rather be honest with you about it. If our suppliers include shipping in the prices of the items, we offer the same to you. We try to treat all our customers the way we'd like to be treated ourselves, and appreciate your taking the time to get to know us a little. If you'd like to know more, click on the "About Us" link in the menu.
Purrs!
Follow us!
2014 One Spark Creator!
Cookie Notification
Copyright © 2019 Thompson Writing & Editing, Inc. Jacksonville, Florida
Please Note:
Old Maid Cat Lady does not make any claims as to the effectiveness of any of these products in treating diseases or conditions. Different cats react differently to homeopathic or natural remedies. Always check with your veterinarian if you suspect that your cat doesn't seem right, or exhibits behavior that may mean illness and a need for medical treatment.